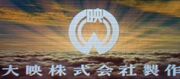 Kadokawa Herald Pictures, Inc.
is a
Japanese
movie studio.
History
Founded in 1942 as Daiei Motion Picture Company|, the studio went bankrupt in 1971. In 1974 it was bought by Tokuma Shoten; and in 2002 was sold to Kadokawa Shoten and renamed Kadokawa Daiei Motion Picture Co., Ltd., later Kadokawa Pictures. In March 2004, Kadokawa Pictures acquired a 44% stake in Nippon Herald Films; and acquired the remaining 56% stake the following year. [1][2] On March 1 2006 it merged with the Kadokawa Herald to become Kadokawa Herald Pictures, Inc.
One of the greatest studios in Japan, they are best known for having produced the giant monster Gamera film series, and the Daimajin Trilogy. They also produced the Zatoichi film series and the television series Shōnen Jet.
External link
Ad blocker interference detected!
Wikia is a free-to-use site that makes money from advertising. We have a modified experience for viewers using ad blockers

Wikia is not accessible if you've made further modifications. Remove the custom ad blocker rule(s) and the page will load as expected.