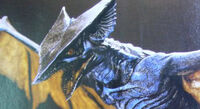 The AvantGyao (アヴァンギャオ,   AvanGyao?) is the Gyaos puppet design used in the 2006 Gamera film, Gamera: The Brave.
Name
The AvantGyao's name comes from avant (アヴァン,   Avan?), meaning innovative or original, and Gyao which comes from Gyaos' name. In the merchandises and books, the gyaos was labelled as Original Gyaos (オリジナルギャオス,   Original?). [1]
Detail
The AvantGyao closely resembles IrisuGyao, with a skeletal face and yellow tinted wings. It no longer has the crease in its head.
Gallery
Production
Screenshots
Merchandise
References
Ad blocker interference detected!
Wikia is a free-to-use site that makes money from advertising. We have a modified experience for viewers using ad blockers

Wikia is not accessible if you've made further modifications. Remove the custom ad blocker rule(s) and the page will load as expected.